Tipsters
The Betsender can automate tips that you receive from a tipping service. Moreover some of the very best tipsters are included into the bot and process of loading and placing bets can be done on auto pilot! If you are not certain what system to use or which selections to bet, you may just use one of the tipsters available in the bot and your betting will be fully automated without you even moving a finger.
We add and suggest only established. We do not work with scams appearing every now and then to let you down. All services are safe level stake systems which makes sure that you will not lose a lot even on a long losing runs.
If you know a good performing service that you would want to see in the Betsender, let us know and we will consider to include it into the bot.
Betting Tools
BettingTools.co.uk is a service where different tipsters post free and premium tips for football, horse racing and other sports. You can download tips after free registration. They provide an instruction how to integrate tips into Betsender.
HorseTips.com.au
HorseTips.com.au is the leading tips service in Australia. It provides tips for Australian horse racing, rating all runners in a race. Every day there are 15-30 tips. To load the tips into Betsender, enter your registered login in format Username&Password in the "Download Tips" form.
Betsender Free Lay Tips (Morning and Live)
Free Lay Tips are our own selections that we provide for free to all our customers. It does not require any special setup, just select these tips from the list in "Download Tips" window.
How to download the tips into the Betsender
The feature is available from the menu "Tools->Download Tips". You will see the following window.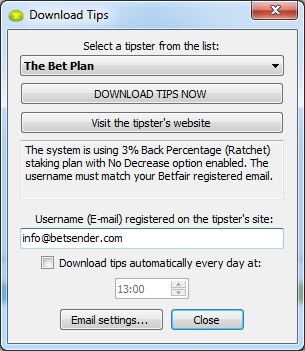 At the top you can select one of available services. "Download Tips Now" button will check for available tips for today and if any will load them into the bot. The next button just opens the tipster's site in your browser. Next you can see a short information about the system. The "Username (E-mail)" box be used to enter your tipster registered login details. It depends on tipster (see specific instructions for different tipsters above).
You can also tell the bot to download the tips automatically at a certain time every day.
Important Note
To download tips the timezone on Betfair MUST be set to match your local timezone. For example, if you live in Germany, your timezone must be set to CET (Central European Time). To change your timezone go to Betfair, MyAccount->My Details->edit timezone.