Free Tips
From 17/11/2012 we've launched our own free laying tips for horse racing. The tips are done by one of our honored customers – Franklyn Martin, who being a successful punter was so kind to share his bets with other bettors. We will publish the tips from Monday to Saturday here on this page. See "Tips instructions" below for more information.
Morning Lay Tips for 26-11-2022 Saturday
| | | | | | | | |
| --- | --- | --- | --- | --- | --- | --- | --- |
| Race | Selection | F/C | Min Rnrs | Result | Odds | P/L LvlStk | P/L Plan |
| Total: | | | | | | | |
| Total (F/C): | | | | | | | |
LIVE Lay Tips for 26-11-2022 Saturday
| | | | | | | | |
| --- | --- | --- | --- | --- | --- | --- | --- |
| Race | Selection | F/C | Min Rnrs | Result | Odds | P/L LvlStk | P/L Plan |
| Total: | | | | | | | |
| Total (F/C): | | | | | | | |
Tips instructions
We have two groups of tips. First one is morning tips, they are added before 11:00. The second one is afternoon (or LIVE) tips. Live tips can be added during the day one by one, but not later than 30 minutes before the race off. Different systems are used to select morning and afternoon tips and the last one is more featured because it uses "fresh" information from the race card. To distinguish morning and live tips they are placed into different tables. It is possible to use morning and live tips together or separately, it is up to you.
We suggest to place the bets 1 minute before the off at available lay price or at BSP price. Forecast (F/C) odds should be used as a guideline to maximum odds to lay at. To lower the losing risks the bet should not be placed if odds are bigger than F/C odds. Min Rnrs column shows minimum number of runners in the race required to place the bet. It is advised to ignore races where some runners were withdrawn and number of remaining runners is less than specified.
"P/L LvlStk" shows profit/loss if bets were placed at level stakes (1 pt).
"P/L Plan" shows profit/loss if only odds-based fractions of 1pt stake were placed accordingly to the following staking plan.
"Total" is profit/loss for the day, summing up all bets.
"Total (F/C)" is profit/loss for the day, if only those bets were placed which have odds not bigger than forecast (F/C)  odds.
Note that it is not a "get rich quick" system, so please do not expect to make big (if any) profits in short time. Be prepared there will be losing days and maybe even weeks, it is supposed that tips make profit in a long term.
Please, note: the tips are provided "AS IS" without guaranties of any kind and you accept full responsibility for all placed bets. Although Franklyn does his best to provide quality bets, they can lose so we strongly advice that you bet only with money you can afford to lose.
We publish all tips statistics and performance on our site: free tips stats.
Staking plan
Franklyn suggests to use the following staking plan to cut your risks on losing bets (you can use level stakes though if you want):
| | |
| --- | --- |
| Odds Range (decimal) | % of bank to bet |
| 9.61 – 100 | 0.25% |
| 8.01 – 9.60 | 0.30% |
| 6.41 – 8.00 | 0.40% |
| 4.01 – 6.40 | 0.50% |
| 3.01 – 4.00 | 0.60% |
| 2.01 – 3.00 | 0.80% |
| 1.81 – 2.00 | 1.00% |
| 1.51 – 1.80 | 0.90% |
| 1.01 – 1.50 | 0.80% |
The above figures show percentage of your bank to lay at different odds. For example, if current price on Betfair is 6.80 and your bank is 200, you should place a lay bet 200 x 0.40% = 0.8 @6.80. If the price is 2.50 and your bank is 200, you should lay 200 x 0.80% = 1.6 @ 2.50.
Using the Betsender with tips
You can use Betsender software to place the tips automatically. You can download install the Betfair bot. Tips can be added to the bot in morning. It is possible to use built-in "Lay Secure" staking plan to calculate stakes accordingly to the above staking plan. The following image illustrates how to set the staking plan parameters: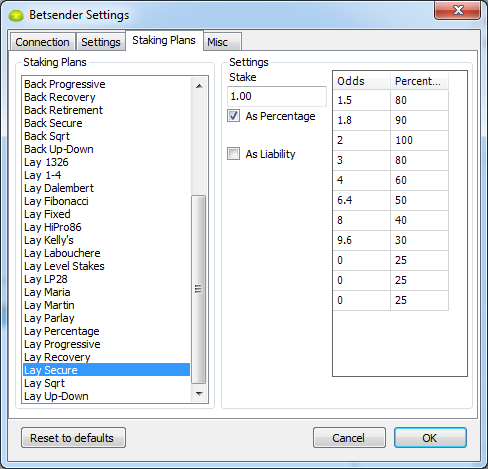 On the above image "Stake" is 1 and "As Percentage" is ticked, therefore the base stake is 1% of the Bank. Table with odds and percentage is similar to the Franklyn's suggested staking plan figures with only difference that it shows not a % of bank, but % of base stake. If base stake is 1% of bank as in our example, 80% of base stake is 0.8% of the bank.
To place bets at level stakes, select "Lay Level Stakes" staking plan in the bot and enter desirable stake.
How to automatically load the tips into Betsender
It is possible to load tips directly into the bot automatically on a daily basis. To do this open "Tools->Download Tips" menu in the bot and select one of our free tips, either Morning or Live tips. Tick "Download tips automatically" box and enter a time when they should be loaded (we suggest 12:00). The tips will be loaded if betting is activated (you clicked "Start Betting" button) and at specified time. If you do not want to use F/C prices as maximum price to lay at and want to place ALL bets at any price, put nomaxprice text into "Username (E-mail)" box. If you do not want to use "Min Rnrs" as your betting condition, put nominrunners text into "Username (E-mail)" box. By default if you don't enter that text the bot will cancel any bets where number of runners is less than required.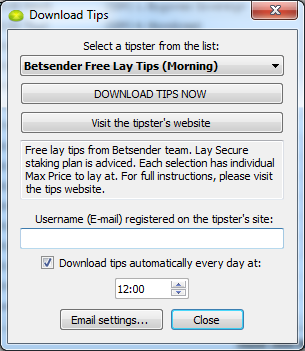 If you do not use nomaxprice option, all bets will have individual max price to lay at, that can be viewed by opening "Bet conditions" for respective  selection. Right-click on a selection and click "Bet conditions" popup menu. This opens a new window where you can see Min/Max odds for the selection.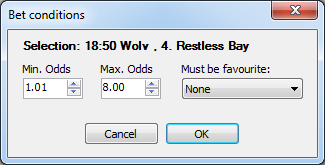 The bot will not place the lay bet if current price is above Max. Odds.