License key recovery
How to register Betsender software if you lost or forgot your license key?
1. Registering with your Betfair account.
On 3rd May 2016 we've released new version of the bot that allows you to retrieve your license details and register the software using your Betfair account username and password.
1.1 Install the latest version of the bot from our Download page.
1.2 Run Betsender and in 'Betsender trial' window click 'I have a license key' button (see image below).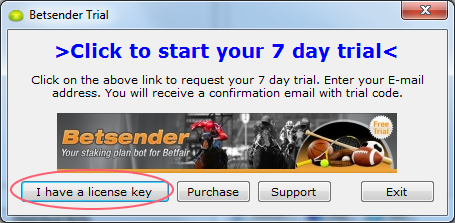 1.3 In next window click 'Register with Betfair account' button (if you don't see this button, you need to install the latest version of the bot).
1.4 Enter your Betfair username and password. NOTE: this is going to work only if you already used the account in Betsender before.
1.5 If everything is correct, your Betsender copy will be registered and you will see 'success' message.
Please note, this method may not work if you have a new Betfair account that was never used in Betsender before or if you didn't use the bot for a while (several years).
2. Recovering your original license key.
If first method doesn't work for you for some reason, the only other option is to order recovery of your original license key. Starting from 01.04.2016 we are charging £15 for license key recovery. We have to do so, because almost 50% of our support work is related to recovering lost or misplaced license keys. The license key recovery can be ordered here: recover license details.
It is always good idea to write down your license info on paper because your computer can break and you can lost all your data. If you've already registered Betsender, you can see your license key in the bot by clicking 'Help->License info…' menu.