Betfair Bot
Betfair bot and software which can fully automate your betting strategy. You can leave Betsender running on your computer and the bot will automatically calculate all the bets following your betting system and place the bets on Betfair. 19 backing and 19 laying plans are available at the moment. Run virtually unlimited number of instances of the Betfair bot. See our Features for all details. Start your free 7 day trial right now.
News
Version 1.5.10930 is released following recent API changes to fix major issue when bets were not firing. Download!
Version 1.4.5 is released which supports recent Betfair API changes. Download!
Version 1.4 is out! Follow the top tipsters from Racing-Index on auto pilot, take BSP prices, place bets on multiple selections in the same race, schedule computer shutdown, load multiple US, AUS, UK races and greyhound, test your strategies in simulation mode, export & import your bets to/from Excel, automatically download and install updates. Now everything this is possible in our simple to use Betfair bot, Betsender. New Bookies Bank plan available. Download!
The bot can be installed on any number of computers using the same Betfair account. Install it at home and at work or on your laptop!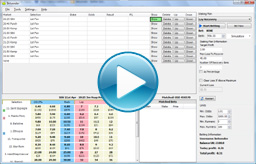 Automated Betfair Bot
Betsender has an easy to use interface connecting you to exchange markets at Betfair. The bot makes it possible to select races and runners you want to bet on in two clicks. After you have set up the software and loaded your bets, the bot will handle all stakes calculations and place bets accordingly to your settings. Relax and watch how it does all the job for you.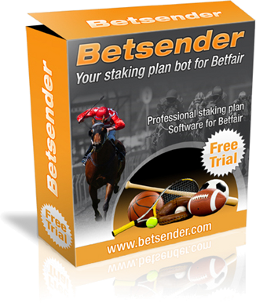 Download the software for free trial
Try Betsender for 7 days free of charge. Then if you like the bot you should purchase the license. We encourage you to download and try our betting bot before you buy. This way you can ensure that it meets your requirements.
Betsender (BETFAIR) Free 7 day trial | 3.9Mb